Passengers who believe they have been scammed by taxi drivers demanding an upfront fee and refusing to use the meter say it is too difficult to report them.
Regular taxi users in Sydney say the practice is on the rise, particularly at peak times, but there is little data as most people do not report incidents.
Mark Lee takes taxis two to three times a week.
He said a few weeks ago, after a Thursday night dinner in Sydney's CBD, eight taxi drivers asked for money, tried to fix a package or left after saying he wanted go to Balmain.
"It was never a problem before COVID, but now the city has woken up again…it happens all the time," Mr Lee said.
Are upfront charges allowed and what can passengers do about it?
Is it legal?
No. When hailing a taxi on the street or getting into a taxi at a station, including Sydney Airport, the driver must use the meter.
However, if you use a booking service such as the 13cabs app, you will get an upfront fare quote before the trip begins and a prepaid option.
NSW Taxi Council deputy chief executive Nick Abrahim urged passengers to insist on using the meter and if drivers refuse, report them so the council can stamp out the practice.
"We want to make sure that if drivers are found to be doing the wrong thing by passengers, we want them reported and we want appropriate and prompt action taken," Abrahim told ABC. Radio Sydney.
How do you report it?
It's not easy, according to those who've tried it.
Your first port of call is the taxi service provider. The more information you have, the better.
Mr Abrahim said passengers should take note of the ID of the driver and the company they worked for, which should be clearly displayed on the dashboard.
NSW Fair Trading said customers should always ask for a receipt at the end of any trip, with the name of the supplier and ABN or ACN.
If you are outside the vehicle, try entering the car registration and make.
Graham Cooke, head of consumer research, wrote about his experience trying to get a refund when he was overcharged by a taxi driver earlier this year.
In his case, there was a taxi supplier and a taxi payment company listed on the receipt.
"When I contacted them both, they both claimed they weren't actually responsible for the taxi ride," Mr Cooke said.
It was the start of a frustrating process.
Where can you go?
If you are unhappy with the company's response, you can try a government agency.
The NSW Point-to-Point Transport Commissioner regulates taxis and ridesharing companies.
The commissioner can investigate complaints about taxis not using meters or haggling, and drivers risk fines for violations.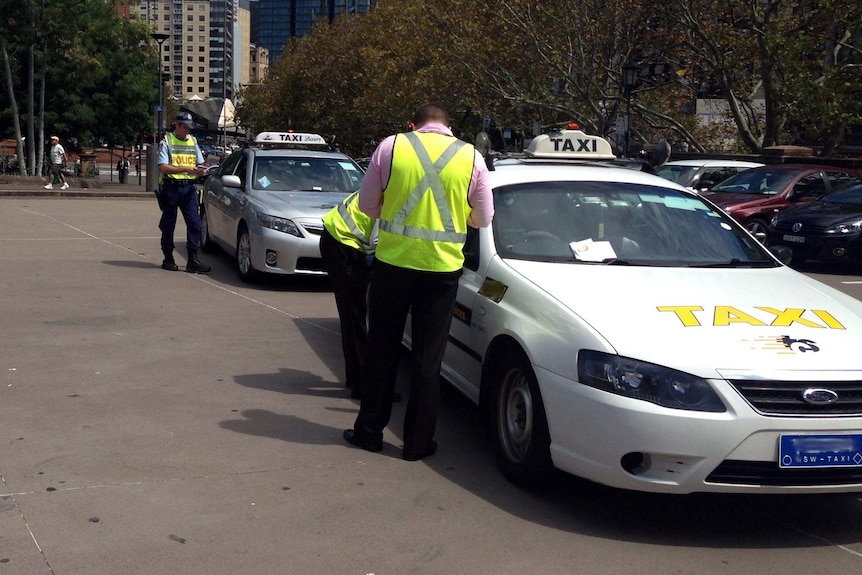 "In order to be able to investigate a case, the purser's team is assisted if passengers are able to provide important information such as date and time, license plate and service provider," said a spokesperson.
However, if you request a refund then you are directed to NSW Fair Trading.
Forty-eight complaints have been made to NSW Fair Trading over taxi providers since the start of 2021.
Of these, 31 involved overcharges or charges above the listed price.
Why don't people report illegal taxi practices?
Anecdotal reports suggest that the numbers are not a true indication of the frequency of the practice.
Mr. Lee once took a photo of the driver's ID card and told the driver that he would report it.
"The driver didn't care," Mr Lee said.
He did not pursue it, saying "there is no clear path" and backed calls for a centralized complaints system.
The NSW Taxi Council wants the Point-to-Point Transport Commissioner to take responsibility for a centralized customer feedback portal.
"Unfortunately, we have seen a lot of these issues arise and the way complaints have been handled has not been ideal," Mr Abrahim said.
Michael Hall has only taken two taxis in Manly this year and said both were unmetered.
He reported it to the NSW Taxi Council at the time, who told him to go to the taxi company.
Mr. Hall said it wasn't worth it for the small fare.
"I don't think the taxi company will do anything about it," he said.
In Mr Cooke's case, he went to his credit card company as a 'last resort'.
"They issued the refund within two days. And that's unfortunately how I had to do it."