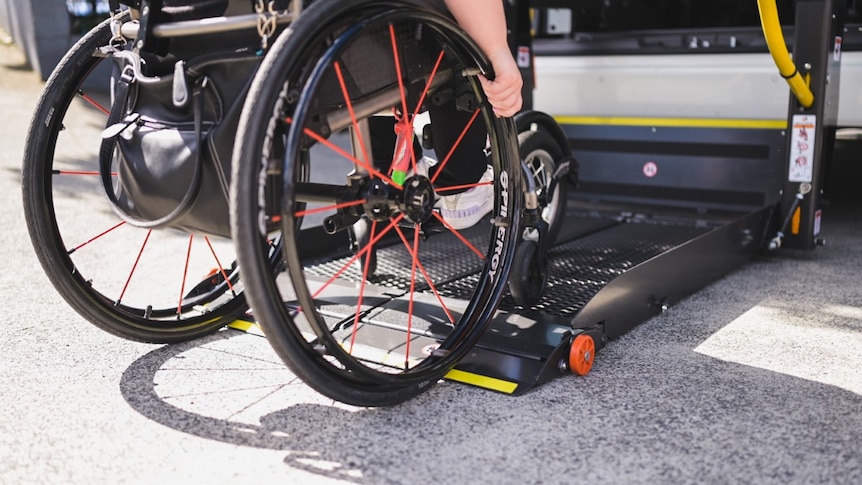 Mark McGrath had to cancel countless appointments, social gatherings and nearly missed his father's funeral due to taxi delays.
Key points:
The Taxi Council of Queensland says a shortage of drivers is due to the pandemic, high fuel prices and unchanged fares
Wheelchair accessible taxis use twice as much fuel as a standard taxi
Only 20% of Queensland's taxi fleet has dedicated wheelchair access
The Gold Coast resident relies on wheelchair accessible taxis every week but said he would do anything to avoid it.
"You never know if they're coming in 20 minutes or in an hour and a half," Mr McGrath said.
"I will even take my power [wheelchair] and drive for two and a quarter hours, just to avoid the same taxi ride."
Even when he pre-booked a taxi to attend his father's funeral, Mr McGrath almost missed it.
"I called the day before and booked the taxi to pick me up at 1 p.m. and the ceremony was at 2 p.m., and it was only about 15 minutes away.
"I was like, 'Oh, this is the perfect time, I'll be way ahead. It'll be awesome,'" he said.
After several phone calls and an anxious wait, the company finally added Mr McGrath to its priority list, bringing him to the funeral with just two minutes to spare before the service began.
"I wasn't going to miss that," he said.
But the experience left Mr McGrath stressed and upset about an already difficult day.
Only 20% of Queensland's taxi fleet has dedicated wheelchair access, making delays frequent.
"Someone will say, 'why are you late?', and I'll say 'taxis.' They get it," Mr McGrath said.
A shortage of drivers
Taxi Council of Queensland CEO Blair Davies said the problem was the limited number of drivers, not vehicles.
"We have wheelchair accessible vehicles available to go on the road, but we don't have enough drivers for them," he said.
But Mr Davies said finding drivers had been difficult with the pandemic, fuel hikes and unchanged taxi fares.
"Wheelchair-accessible vehicles are bigger vehicles, and with fuel prices as high as they are, it also makes it harder to run these businesses," he said.
It costs twice as much fuel for a driver to operate a wheelchair-accessible van compared to other taxis, Mr Davies said.
Taxi fares have also remained unchanged since 2014, which Mr Davis said was "working against" the industry.
"We think this might well discourage taxi drivers from getting around and using these wheelchair-accessible taxis," he said.
The Taxi Council has called on the government to do more to help drivers meet the needs of people with disabilities.
'No improvement' in wheelchair-friendly taxis for decades
In 2019, the Queensland Government announced a four-year, $21 million Wheelchair Accessible Taxi (WAT) program to help modernize the fleet.
The grant is due to end next year, but only $9 million has been spent since the program began.
The Ministry of Transport and Main Roads said it was processing an additional $2.34 million in claims.
The grant aims to replace delisted and aging vehicles with wheelchair-accessible taxis, a spokesman for the Department of Transport and Main Roads said.
Mr Davies said while the grant was helpful, accessing it was difficult.
For Mr McGrath, the changes did not lead to any improvement in his experience of trying to get a taxi.
"There has been no improvement and the basic issues are still the same."
Ride-sharing services aren't any better
While ride-sharing services are a popular option for many, companies such as Uber, Didi and Ola offer limited, if any, options for people with disabilities.
Uber can only provide service to people with physical disabilities who have wheelchairs, walkers, and collapsible, collapsible scooters.
DiDi spokesman Dan Jordan said they don't offer "specific" services for people with large wheelchairs.
"And we haven't done a trial in Queensland yet," Mr Jordan said.
The Queensland Taxi Council said there was an "oversupply of service" of taxis and ride-sharing vehicles, but the same cannot be said for accessible vehicles.
"People who need a wheelchair-accessible vehicle don't have a choice in the rideshare or limo market," Davies said.
"And as we all fight for drivers coming out of the pandemic, they will see fewer services available to them."