Despite the rise of on-demand ridesharing, Des's Group is still a driving force in the movement of people to and from the holidays across South Australia.
Brothers Trevor and Des Brougham founded the taxi company Des's Cabs in their hometown of Whyalla in 1963 while working part-time as bakers.
In 1974 the company had 10 employees and a fleet of taxis, but Trevor's sudden death brought the company to a virtual standstill.
At that time, the company's future depended on Trevor's 20-year-old son Chris Brougham.
"Uncle Des just looked me straight in the eye and said, 'Well, I can't run it. You will have to do it, "says Chris, now CEO of Des's Group.
Today, the company has 400 employees and 300 vehicles throughout regional and metropolitan South Australia. Des's not only offers taxi services, but also minibuses and coaches.
Locals know the company for its minibuses, which regularly transport punters to distant festivals and wine tours – a most Adelaide rite of passage.
The young people have put themselves at the service of Des's Group, and that means they are doing something right, says Chris.
"We take care of the people," he says.
"As a parent, you want to have the confidence that your children are in a vehicle where they are being looked after… by the organization that will bring them home safely or get them out safely.
"I'm really, really proud of the fact that we can do this. "
Family and community have long been at the heart of Des's Group, which Chris says is exemplified by his name.
CityMag had long assumed that the titular "Des" was a made-up character – a play about the company's role as a designated driver. But in reality, it is a mark of family respect initiated by Chris's father.
"My dad totally admired his older brother and named the company after his older brother," Chris says. "We haven't changed the name – it's solid, short, and contains the apostrophe, which bothers some people, but makes it memorable."
After the death of his father and the decline of Des, Chris "grew up quickly" and became Managing Director.
He knew it was going to happen.
From the age of 13, Chris was trained for the role. He remembers waking up at 5:30 a.m. to count money and worksheets before school.
This was back when the business was operating out of Chris' grandmother's spare bedroom.
Chris' career in transportation began before him.
"As a teenager, I dreamed of having a house with a double garage in the back and two taxis parked at night," Chris laughs.
"But I had a cool head when I was 10, so [at] 20 [it] it was not a big deal. "
After becoming General Manager, Chris operated Des's Cabs only in Whyalla for twenty years, building a solid reputation as a reliable taxi company. Then a new market arose.
"I was finally invited to come down [to Adelaide] to sit on the Taxi Council back in the days of the SA… then an opportunity presented itself and I thought, "Why am I doing this in the country? I'm going to go to Adelaide and show them how it's done, "Chris says.
In 1993, Chris expanded the business to the Adelaide metropolis and took the Toyota Tarago seven-seater taxis with him.
He says his uniformed drivers and five-star service exploited a desire for on-demand transportation among Adelaide's upper echelons.
But the spread of minibuses in Adelaide has not been an entirely smooth process, and the taxi industry in general has resisted.
"They said, 'People normally take two taxis. Now you send one, "Chris recalls. "It got pretty difficult at first. "
Chris stuck to his guns and eventually expanded his business to other parts of the state while tailoring his transportation offerings.
In the decades that followed, Des's expanded to Port Augusta, Port Pirie, Port Lincoln, Mount Barker, Murray Bridge, Victor Harbor and Adelaide by buying out existing businesses.
"We have filled in the gaps," says Chris. "But I'm always like, 'What's the next thing? ""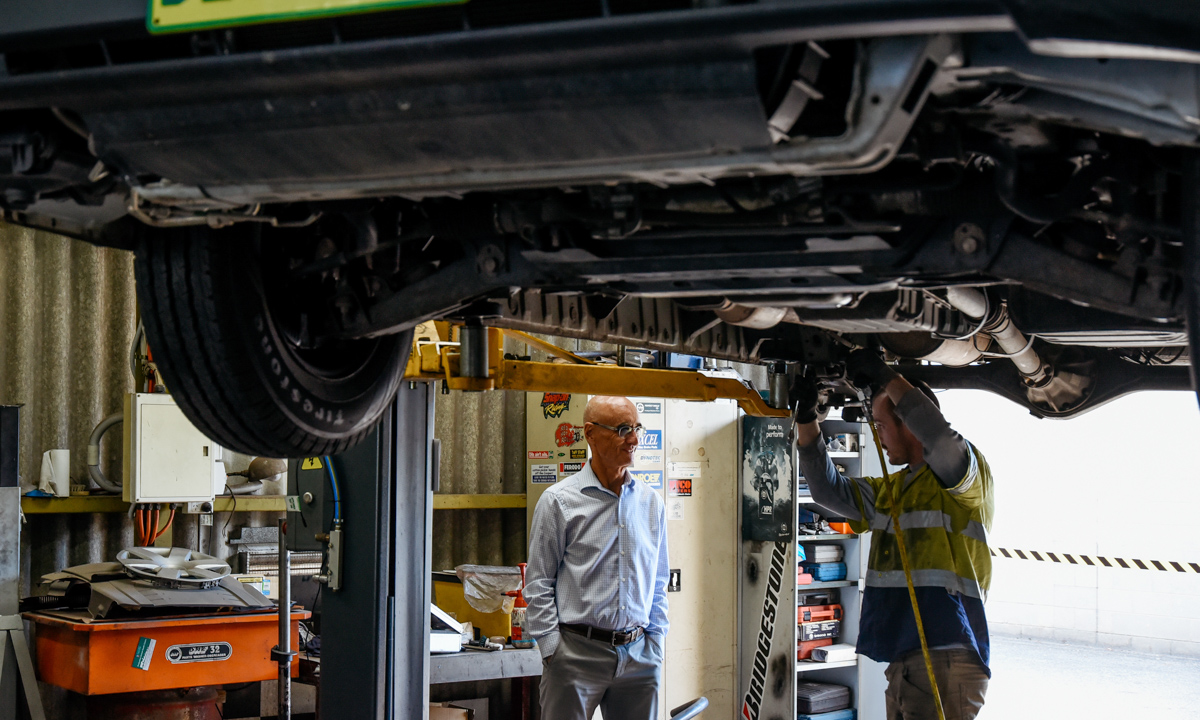 Today at the head of a transport empire, Chris is proud to look back on the achievements of his company. But that doesn't mean becoming stagnant; he predicts that electric and autonomous vehicles will be "a reality" during his lifetime, and it is a future that the Des group must be ready for.
"Uber, so far, has certainly had an incredible impact on the metro industry," Chris said.
"And I'm not unhappy that I made the decision to quit the metro taxi industry before Uber arrived.
"Looking back, that was one of the smartest things I did, because it took so much of my work.
"They have had an impact on what we do at Des's Minibus from a Friday and Saturday night perspective.
Although retirement is not on Chris' agenda, he is starting to think about succession.
The Des's brand has grown so big, with such a huge presence in South Australia, that it has grown too big an entity to simply be passed on to her children in the same way it was given to her.
But he wants to make sure there will be support for the 400 people currently employed at his family business, including his nephew, mechanic Matt Brougham.
Ensuring that the company maintains its five-star service for its travelers is also imperative.
"It's not just about turning the wheels, it's not just about the money coming in, it's about taking care of customers… [and] take care of the people who work for you, "he says.
"For 25 years in a row, I drove taxis on Christmas and New Years to make sure people got home safely. What if there was a mother and her young child in the car, and maybe a father who drank too much. How else could they get home? "